Our Customers
Since 2010 we've done business with many fine companies, including:
Software
eBay
StubHub
Limelight Networks
iMany
Yousendit
Recommind
Teknas
Usablenet
Hardware
Revision Military
Scaled Composites
Maxim Integrated Products
Fisker Automotive
Broadcom
Health
EDIWatch
Quantros
Testimonials
"Thanks for all your hard work making this a success for us.
We are very happy with all of your efforts!"
 David O'Neill
 iMany
"We have accomplished a lot with your help. You have helped us to see how, on our own, we went astray. And have quickly shown us the proper way to approach things, and then have been helping us use the power of the system to support our efforts."
 Paul Slagle
 EDIWatch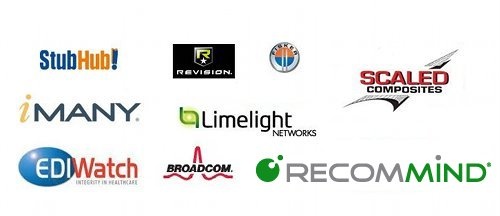 #trackbackRdf ($trackbackUtils.getContentIdentifier($page) $page.title $trackbackUtils.getPingUrl($page))