Skip to end of metadata
Go to start of metadata
This page constitutes random notes from my work day as an Atlassian product consultant, put up in the vague hope they might benefit others. Expect rambling, reference to unsolved problems, and plenty of stacktraces. Check the date as any information given is likely to be stale.
I generally like to configure Jira and Confluence to send outgoing emails to localhost , and there have Postfix do the final mail delivery: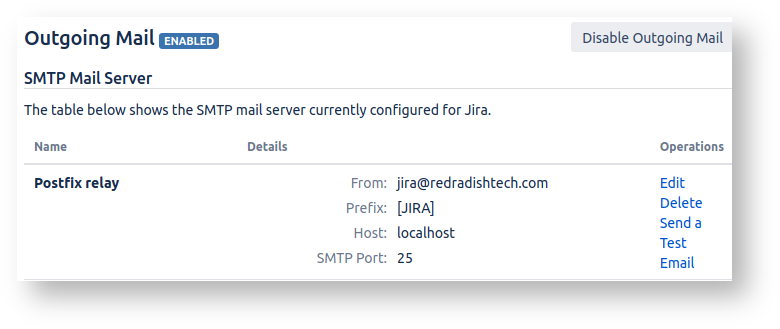 Delegating to Postfix has at least two benefits:
It keeps sensitive SMTP credentials out of Jira
I can configure Postfix on staging to 'blackhole' all outgoing emails (i.e. send them to a local file), so when production Jira data is run on staging, there's no chance of staging accidentally emailing people even if I forgot to set -Datlassian.mail.senddisabled=true 
JETI
One caveat I discovered today: Postfix will reject emails larger than a certain size (the message_size_limit parameter), and if you have JETI installed, and users use JETI to email issues with their attachments, then it's quite easy for Jira to be sending JETI emails over 10Mb. Postfix rejects them, and they end up in the Jira error queue, where they languish forever until Jira is restarted.
So if you don't want to lose your outgoing JETI emails, increase message_size_limit  to whatever your'e comfortable sending.