Forster/Tuncurry Services

Red Radish Consulting is based in Forster, a small coastal town 4 hours north of Sydney, Australia. It's a nice spot, with lots of holidaymakers in the summer.
There are also lots of small businesses trying to make ends meet. These small businesses keep the local economy ticking, they employ our friends and neighbours, and we can see they could often use a hand when it comes to IT.
Some things we've noticed:
Most local businesses are small, without an IT department.
Computer use is rudimentary, often limited to email, an accounting package, and maybe spreadsheets.
Small businesses are under pressure. The general trend is of larger businesses taking over, in part because economies of scale mean they have better-organized, central IT systems, providing greater efficiencies.
Modern web-based software means top-notch IT systems are within reach of most businesses. All that is lacking is knowledge of the options and know-how to implement them.
Local Business Services
When engaging with local businesses, our goal is to apply the minimal amount of computer technology for the maximum impact to businesses' bottom line. Examples might include:
Setting up generic low-cost business software, such at Atlassian JIRA/Confluence, for tracking internal company documentation and tasks.
Setting up a basic website for a company lacking one
Setting up off-site backups for companies' local computers
Setting up online calendars with phone integration
Migrating companies to industry-specific web-based software
Sustainable solutions
We do not leave businesses with systems they do not understand or cannot long-term afford. We provide training to ensure employees are comfortable with any new systems, and being local, support is only a phone-call away.
Independent advice

We are not selling any particular solution. Do not advocate "cloud" solutions without carefully weighing the advantages (features, ease of maintenance) vs. disadvantages (ongoing cost, potential lock-in).
Contact us for a free consultation
If your business is around Forster, Tuncurry or Taree, please drop us an email at info@redradishtech.com to discuss your needs.
Case Study: CoastEC Church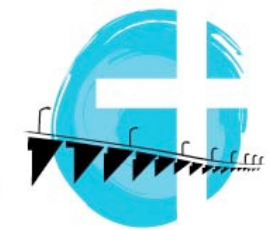 Churches are not just Sunday affairs, as Chris Ekins, founding pastor of Coast Evangelical Church (CoastEC) in Forster, will attest. On the business side there needs to be tracking of formal policies, employee contracts, pay and super, AGMs and Admin Committee meetings, budgets, details of insurance, office and building rental, equipment, notes about websites and third-party services. Then there are church programs, events and initiatives, Sunday services to plan and teams to organise. Then all this needs to be put into action – bills need paying, insurance policies and rental agreements need renewing on time, plans need to be actioned and delegated.
CoastEC's IT systems in 2012 consisted of a Dropbox folder full of MS Word documents, a spreadsheet of church member details, and a very full paper diary. All these systems were showing strain.
Over the next few years, we put in place various low-cost IT systems:
Confluence for documenting business processes and planning future steps
JIRA for delegating and actioning tasks, and tracking them to completion
Jethro - a church management system for tracking member details and rosters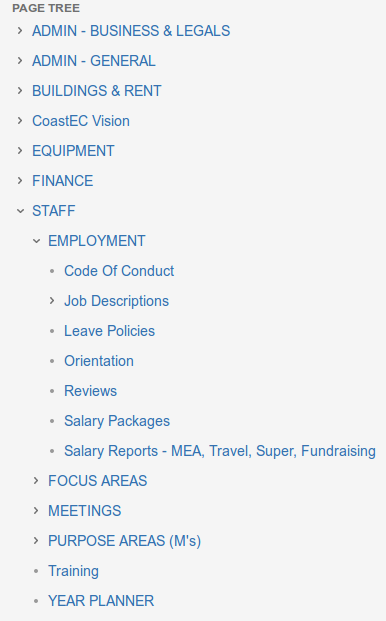 Church administrative areas are now documented in a giant tree in Confluence (see right), with pages linked to JIRA issues. For example, the "Insurance" Confluence page contains policy PDFs, contact details, and links to JIRA issues for renewing the policy, with due dates set a month before the policy expires.

Each high-level node in the tree contains a list of issues linked to any page in the sub-tree. This means, for instance, that one can see all 'Admin' issues due in the next month at a glance:

Responsibility for running the church is delegated (e.g. "Equipment"), and the delegate can see all relevant documentation and tasks due relating to their area of responsibility.
#trackbackRdf ($trackbackUtils.getContentIdentifier($page) $page.title $trackbackUtils.getPingUrl($page))